Enterprise Content Management

---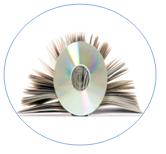 Enterprise content management (ECM) refers to the technologies, strategies, methods and tools used to capture, manage, store, preserve, and deliver content and documents related to an organization and its processes. Enterprise Content Management (ECM) has become a strategic imperative for organizations experiencing tremendous growth in their volume of information, the need to differentiate themselves through the creation and protection of intellectual capital, and increased legislation requiring access to auditable records.
As the digital age has facilitated communications, it has brought with it a greater wealth of -- content than ever, in a multitude of formats such as images, text documents, Web pages, spreadsheets, presentations, graphics, drawings, e-mail, video, and multimedia. This explosion of structured and unstructured content can be complex and difficult to manage, and the problem is growing rapidly. A recent study conducted by Accenture indicates that more content will be created in the next two years than in the entire previous history of humankind, and over 93 percent of it will be in electronic form.
Rockland System Solutions can help you address your Enterprise Content Management issues in a variety of ways:
Enterprise Search
Corporate Portal and Intranets
Document and Records Management
Forms Management